There is a small (and weird) group of people in this world called Objectum Sexuals, who carry on intense, realistic relationships with inanimate objects. Like bridges, the Berlin Wall, and the Eiffel Tower (but I try to pretend that last one isn't true, because I love the Eiffel Tower and don't like to think that there are people in the world who routinely make love to small replicas of it). I was going to say that I didn't understand their psychological pull to things that aren't, you know, alive (or human, more importantly), and am in fact creeped out by the entire thing, but I think I've made that clear.
That said, I want to introduce you to my newest crush. Meet the Cappellini armchair:
This chair makes my tiny little heart flutter. Look at it! All curvy and colorful. It is like plastic and confetti and broken crayons and magic got together one night and did the hanky panky (In the interest of full disclosure, I googled euphemisms for sex out of sheer boredom and found a bunch! Some of them are so vulgar! I can't even).
Anyway, back to the chair! If you find it as painfully cute as I do, it might be because this is a Cappellini / Walt Disney collaboration, and we all know that Walt Disney is the universal sign of mass-produced cuteness (and anti-Semitism, but that is besides the point). I'm sure it's not really all that comfortable (the chair, not anti-semitism, though I suppose that's pretty uncomfortable, too) but they lure you into thinking otherwise by announcing that there were only 99 of these brilliant chairs produced. Ninety-nine! As in, I've got 99 problems, but this, uh, chair, ain't one.
True to form, the gene in me responsible for consumption is spazzing over the possibility of owning something that rare. So, also true to form, I start rationalizing the purchase. I could just save up for a few months, cut back on frivolous expenses like electricity and food, and then the darling chair will be mine! Nevermind that my studio apartment is barely roomy enough to fit the stuff I already have (which leads me to believe that I have too much stuff. I refuse to believe I am paying too much for a small apartment), look at that chair! If that chair doesn't make you grin like a tea-party republican idiot, then you clearly have no appreciation for whimsy, or for finely crafted homegoods. And that's fine. I'll be happy with my chair, and you can lust after it from afar and I won't even let you sit on —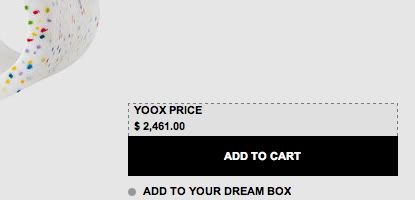 Beg your pardon?
$2461.00? Two thousand, four hundred dollars? No, I don't think I can "ADD TO CART", no matter if it's in caps lock or not. I'll be adding it to my dream box, assuming of course that that is not some euphemism (we're back on euphemisms!) for something else.
There is cute, and there is insane. And this chair, though it breaks my heart to say it, has crossed over to being expensively, prohibitively, ridiculous. I'll just have to show my adoration in other ways, like creating an image header hommage to its wonderful multi-colored-ness.
Oh well. Good thing I have other chair-lust backups! Let's observe, shall we?
The Bertoia Wire Side Chair. Fabulous and shiny, and, if at all possible, looks even less comfortable than the Cappellini above. But! The patent on the design has expired (thank you 70 year copyright rule!) so you can pick up a pretty decent replica on the cheap. Not that I would, because that is shameful. However, my thrifting talents aren't quite as honed, but I've seen many examples that prove these are readily available (albeit in a right state) if you're willing to dig around.
And oh, Eames shell rocker. You deserve a post all your own, even if I can just tell by looking at your my tokhes would hate you.