I'll be upfront with you and admit that I've never been a timely person. I was never good at keeping a diary / calendar / date book, arriving on time, or remembering where I'm supposed to be. And it isn't for lack of trying! I've bought beautiful leather date books with gold embossed page edges with the full intention of writing down my schedule each day. It was easier when I was in school, and things like that were a necessity. If I didn't write it down, there was a very good chance it would never get done. Not because I am lazy, but because I seemingly have the attention span of a cheese sandwich, and that plummets significantly once you pile on massive amounts of work.
Then I got a job, and a Blackberry, which somehow made me want to put everything I might possibly have to do in my calendar. It made me feel like a grown up, being able to say, "Let me check my calendar" when someone would ask if I was free.
I also felt like a grown up when I got my first big-girl apartment, that I was paying for on my own and not sharing with anyone else. You realize quickly when you move into a place with high ceilings that there is a scary amount of  blank wall space. Wanting to maintain my streak with being organized and also wanting to totally design-nerd-out on my apartment, it hit me.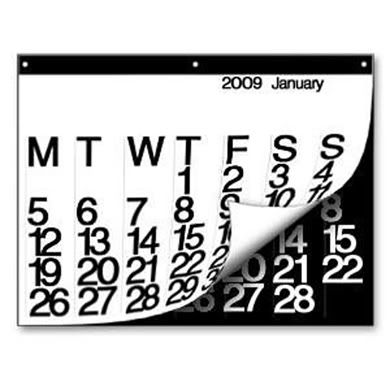 I had first seen it in Anna's New York City apartment kitchen redo, and instantly fell in love with it. It's a calendar that meant it. It's large enough to take up an ample amount of wall space, and beautiful enough that it transcends being just a calendar, and becomes art. Did  you know it's the only calendar in the Design Collection at the MoMA? Rationalization!
But back then I was unemployed, and couldn't bring myself to spend $30 that I didn't really have to spend (do you hear that? It's the world's tiniest violin). And by the time I got a job, it was almost 6 months into the year, and they had stopped selling the 2010 version of the calendar. What was a girl to do? This was a crisis of epic proportions! I felt like it was the most unfair thing that had ever happened to me, that I had to wait a whole 6 months to get my own calendar. (Do you know what we call this? White People Problems)
Those 6 months were agony, let me tell you. I tried to talk myself out of it several times, so the waiting wouldn't be as painful, but my heart knew what it wanted. It wanted this calendar, and this calendar it had to have. So, finally, when the new 2011 ones were released in late December, I ordered one.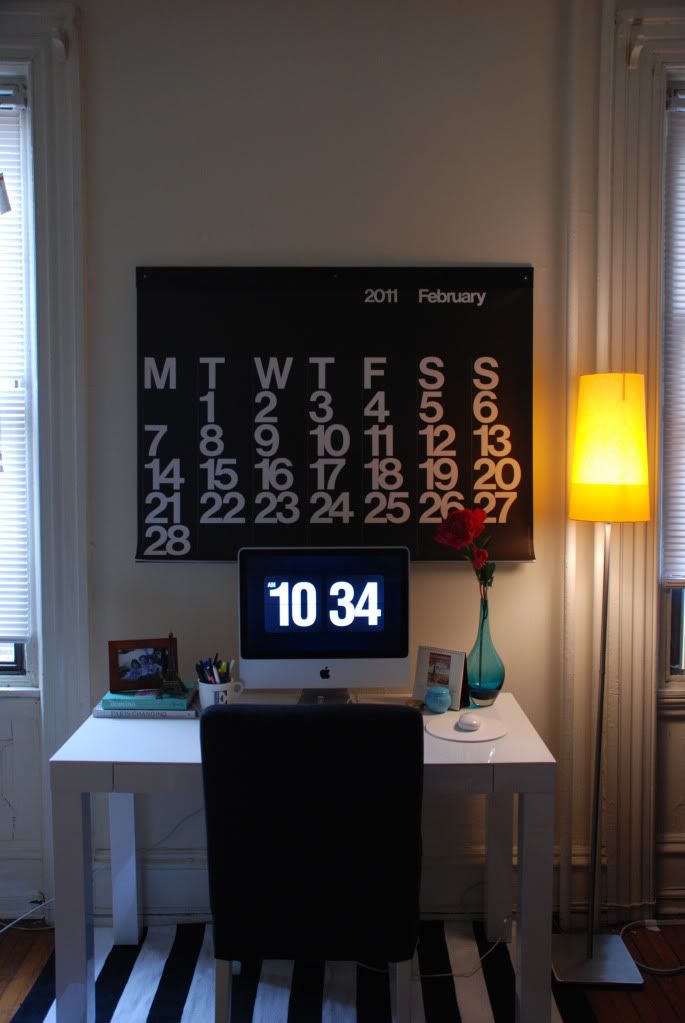 My desk, the like / want / need office. Believe it or not, I did not do any pre-photo cleaning or straightening up. Aren't you impressed? It's one of my New Years Resolutions to be cleaner.
Look at how proudly that calendar is hanging on my wall. It's like it is saying, "HELLO. TODAY IS FEBRUARY 13TH. IT IS A SUNDAY. DO NOT BE JEALOUS OF MY BEAUTY." I didn't realize when I ordered it that it would be a euro-style calendar, with the week starting on a Monday, as opposed to a Sunday start like we have here in the states. Somehow I missed that. But I've adjusted rather easily! Except for that one day in January when I was convinced it was Thursday but it was really Friday. That was fun.  
And in case you were interested:
Enjoy the rest of your weekend, kiddos!