Maybe it's because I'm home all the time these days, but my once-charming little apartment is starting to become…not so charming. The tap water tastes like lead, I found ants in my cabinet (actually, I found a live ant in my box of sugar as I poured it on my oatmeal), and my beautiful, marble fireplace with carved fleur-de-lis inside has been dropping crumbling brick and dust from the floo for a few weeks at random. Sigh. There was an episode of House Hunters International (love that show!) where they were in Bulgaria, and looking at an old farm house in desperate need of renovation. The thing didn't even have indoor plumbing, and all I could think was, "that house is nicer than my apartment."
So what's a girl to do when her lease extends through July and there are only so many times you can scrub your floor and redecorate? Look at pictures of other people's more beautiful homes, of course! (did you not get that with this post?) Why don't we: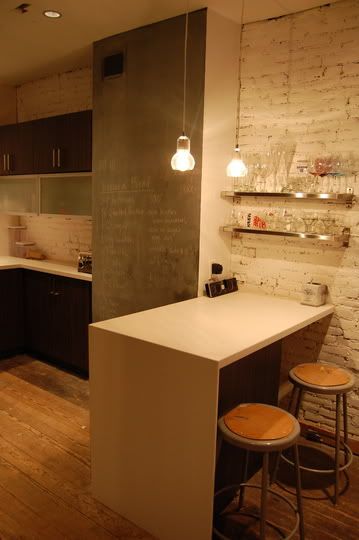 from here
This kitchen makes my heart flutter. Everything about it is perfect. Painted white brick (clearly the way to my heart), exposed bulb hanging pendants, open shelving, chalkboard wall. I just can't even. I hope this woman doesn't mind that one day I'll replicate this kitchen exactly in my home.
from here
If I have to pick a second favorite kitchen, it's this one, hands down. Bertoia stools! Those hanging lamps! That tile! The mix of natural wood and the laminate white upper cabinets. And don't think I didn't see that kittle row of plants on the window sill.
from here
Get that Pia Wallen blanket off the floor!! There is a lot going on in this room that makes me happy, aside from that blanket being on the floor. Eames shell side chairs! Giant wall of windows! Painted white floors! I wish I could have painted white floors. Like, more than I want world peace.
from here
Of course this dining room comes from the Netherlands. Again with the painted white floors. I don't love how the gaps between the beams aren't caulked, but that just adds to the overall aesthetic of the room. Eames chairs with wooden eiffel bases! Those branches. Why are of all the light-filled rooms overseas?
from here
That's it! Someone needs to buy me a vintage dress form and some wonderfully distressed chevron floors. I bet that fireplace doesn't occasionally drop dirt out of it. Harumph. Just check out the layering of paintings and empty picture frames on the mantle! Empty picture frames make me weak in the knees.
And, the piece de resistence:
I don't even know where to start! Rainbow books! A mirror tray and a bouquet of fresh daisies! A PUG! This might be my favorite picture ever in the history of home decorating. Or ever. Just check out how that adorable pug puppy is all set to launch himself off the sofa, possibly to unleash a reign of unrelenting kisses and snorting.
Now I'm just fussier over the state of my apartment than I was before. What would you change about your home if you could? Tell me!